Yeahhhhhh today is a good day!!!!!!! I didn't sleep at all last night and I had to open for work and this was greeting me in it's package after my mom told me Monday she went on eBay and got it for me after knowing how I had been saving for this, but also just trying to not spend money. Thankful to my parents who always were understanding of my love for video games!

I'M SO GLAD I WAITED YESSSSS. I can't even. I've been using my old Nintedo DS Lite hand held for the past five years and haven't upgraded until now. THIS NEW TECHNOLOGY IS ALL SO STRANGE TO ME I DON'T KNOW IF I CAN HANDLE IT. But I'm keeping my DS Lite so I can still play my Game Boy Advance games.

Pi has already sat on it and I haven't even held or played it yet.
(ノ◕ヮ◕)ノ*:・゚✧*:・゚✧
lunaseas:
Has anyone ever told you that you sort of look like Pikachu?
Actuallllyyyyyy…

I was Pikachu (made the costume myself) a few years ago for Halloween and friends have requested me to speak in the PIkachu voice every so often. I had a tail too that was attached but I forgot to fix it when this picture was taken…I downloaded the theme song to my iPod and we connected it to travel-size external speakers and had it blasting on repeat in Ash's backpack. You can't tell, but Ash even made sure he had spikey black hair connected to his hat.
。◕‿◕。

(and yes, I know, Brock was wrong with his t-shirt and vest colors and his hair wouldn't stick up)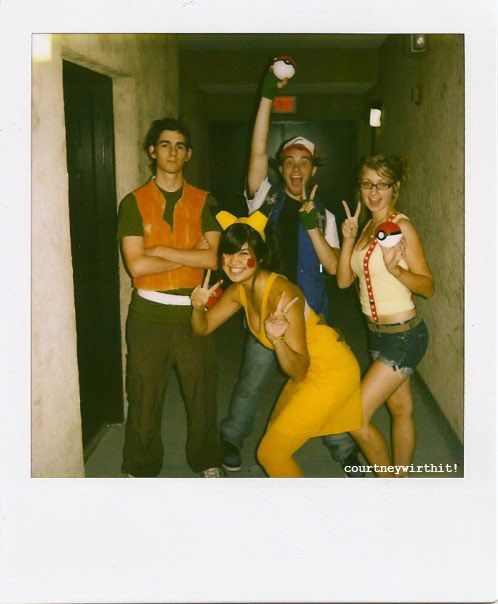 And I'm slowly working on the next FAQ post. I just found this question funny and had to answer.
Instead of focusing on my thumbnails, I drew this little favorite instead.
Let's go homework! I don't mind thumbnails, they just take me longer than they should.